So many people rush to get their greens from supplementary greens powders in the mistaken impression that they can not get extra veg in their diets with out chowing down on raw greens all day! This recipe demonstrates how you can get in two extra cups of veg with out even noticing it! The added bonus here is I have not used many actual vegetables in this recipe, but greens including leaves from flowers and weeds that I have foraged from my garden. These are hugely nutritious – i would argue – superfoods! Our commercial veggies have been bred for look and sweet taste often loosing a good deal of nutrition in the process.
but please don't ever eat anything you are not sure of! So please get in contact if you need some help identifying something! Today I have used borage leaves, violet leaves,radicchio leaves, lemon verbena leaves, fennel leaves, sorrel leaves, ribwort leaves, and nasturtium leaves.
This recipe serves two for lunch, with lots of aioli left to pop in the fridge for later use!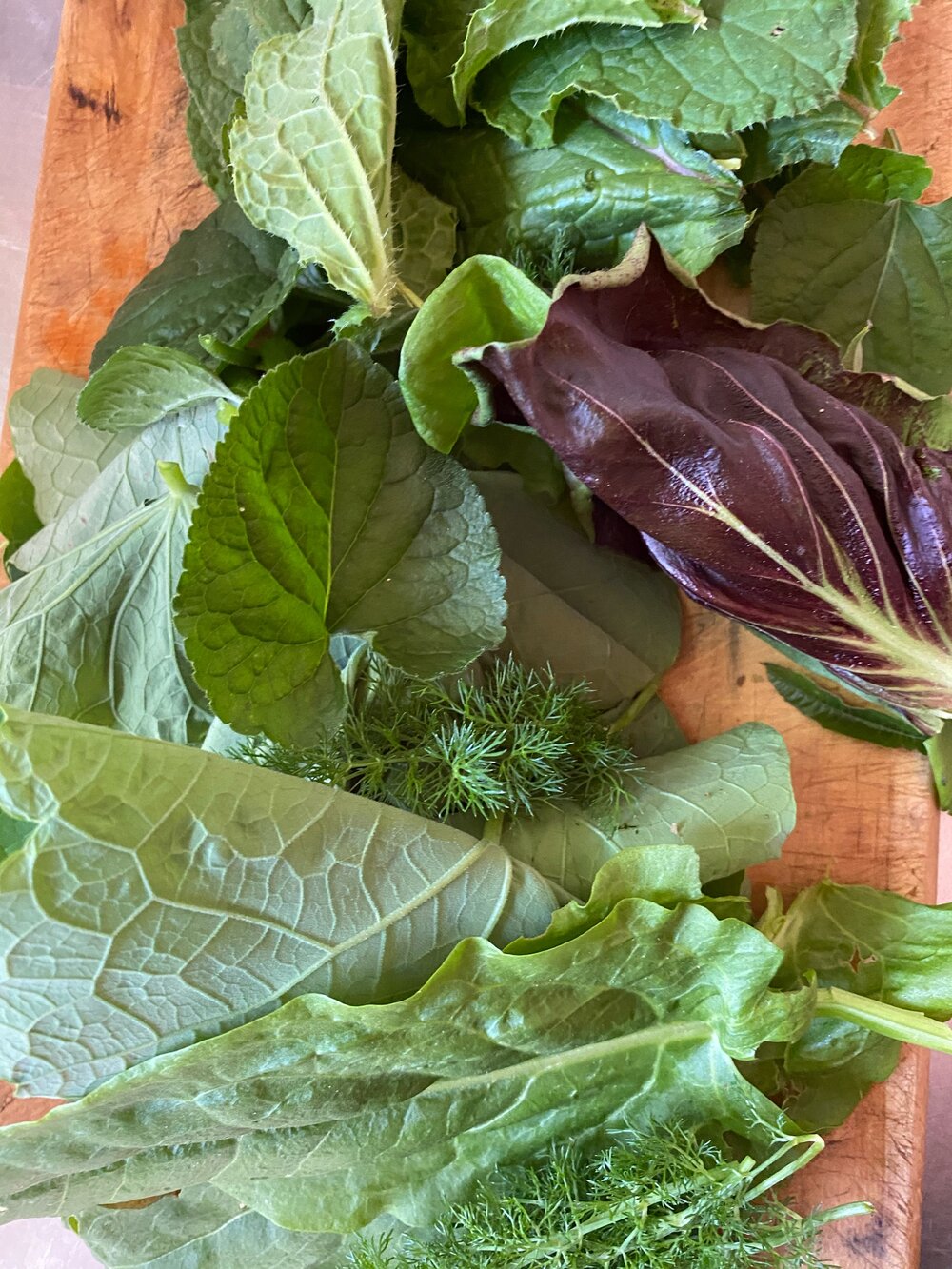 Ingredients
Fritters
1.5 cups of gluten free flour, I have used sorghum today and most often use buckwheat. nb if using non gluten free flour you could skip the psyllium – which is there to bind, unless you want the lovey extra fibre it provides
1 tsp psyllium
1 tsp sea salt
1 tsp ground cumin
2 eggs and 2 extra white (from aioli)
1- 2 cups of milk or milk replacement (I used oat m
4 cups of roughly chopped greens – could be parsley/spinach/kale/silver beet from the shops or any edible greens from your garden or beyond.
Aioli
Yolks of 2 eggs (add whites to fritter mix)
juice and rind of 1 lemon (if a brought one wash wax off!)
2 tsp of whole grain mustard
2 cloves garlic
1/4 tsp salt
150-200ml of olive oil – depend how thick you like your aioli – I used about 200mL
Method
Fritters
Split eggs for aioli – whites in one wee bowl and yolks in the one you are going to use to make your aioli
Place dry ingredients in a biggish bowl and make a well, add the eggs and extra whites
Start whisking the flour in slowly combining as the walls of the well fall into eggs as it gets too stiff to whisk start adding small amounts of milk/milk replacement keep adding until the mix coats the back of a spoon (see picture)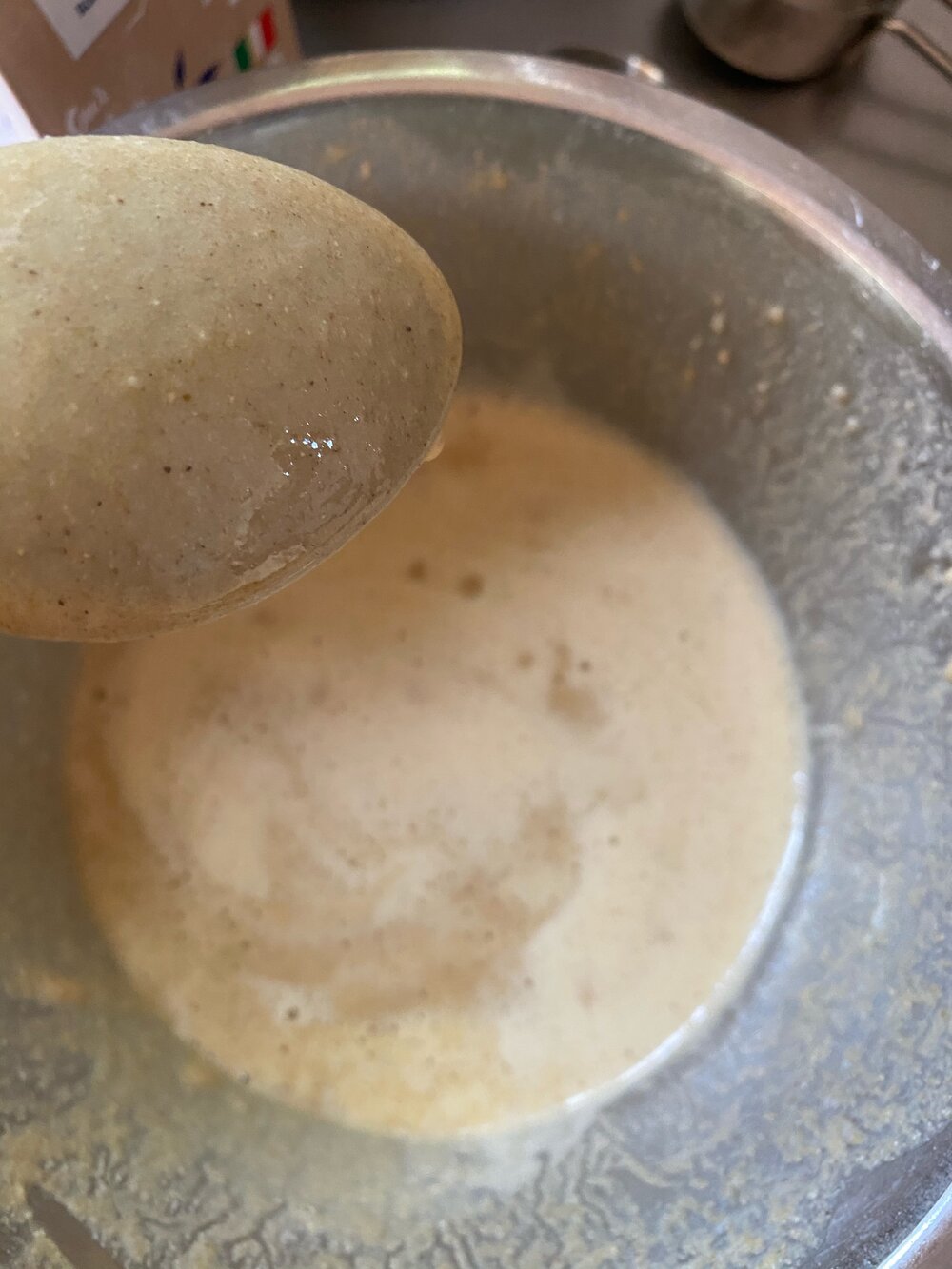 Add the roughly chopped greens and mix well
Make the aioli (see below)
Put some olive oil in pan and cook on medium heat (don't let oil smoke) the size you make is totally up to you – I made them a heaped dessertspoon for each fritter. And 3-4 each batch
Brown each side and fritter is cooked in the middle and place into a warmed oven to keep hot while you cook the other batches.
Serve when all cooked with aioli & some chutney – I used Barkers sundried tomato and olive which worked well flavour wise.
Aioli
In a mortar and pestle grind salt and garlic
Place in a medium bowl with the mustard & two egg yolks, start slowly drizzling in olive oil (as slow as you can to prevent splitting
when it gets really thick add the juice and zest of the lemon and continue adding oil untill it reaches a nice thick consistency again.